Prije nekoliko dana u prodaju su stigli drugi po redu legendarni deckovi, točnije deckovi Yugija, Kaibe i Joeya iz originalnog Yu-Gi-Oh! serijala. O tome što vam donose i zašto bi vas baš taj proizvod mogao zanimati govorit ćemo danas.
Legendary decks II možete kupiti na shop.yugioh-planet.net 🙂
Prije svega, ovaj proizvod prepun je reprintova! I to ne samo nekih bezveznih, već i dosta dobrih i relevantnih! Možda će vas najviše zainteresirati karte za Blue-Eyes deck koje ovaj proizvod gotovo sve i sadrži. Tako ćete ovdje pronaći karte poput The White Stone of Ancients, Dragon Spirit of White, Azure-Eyes Silver Dragon, The Melody of Awakening Dragon, Maiden with Eyes of Blue, a po prvi puta u Kaibinom proizvodu dobivaju se i tri kopije Blue-Eyes White Dragona! Da stvar bude bolja, sva tri imaju drugačiji art! Lijepo je vidjeti i neke od klasičnih karata koje je Kaiba koristio u svojim duelima poput La Jinn the Mystical Genie of the Lamp, Vorse Raider, Enemy Controller i mnoge druge.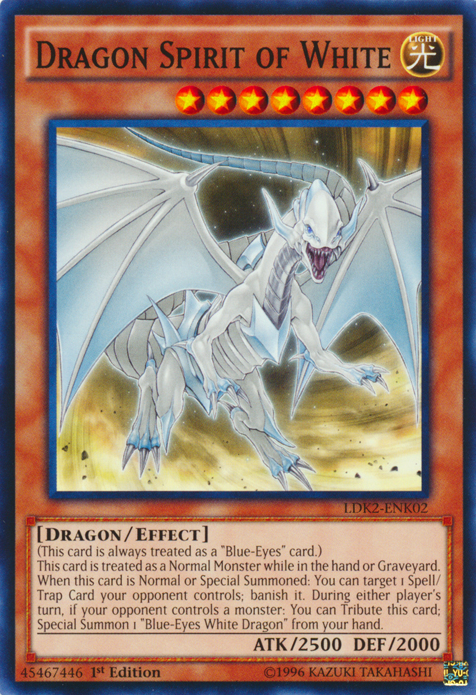 Valja imati na umu da ako planirate napraviti kompetitivan Blue-Eyes deck, ovo je solidan proizvod za započeti, no nedostajat će vam neke bitne karte poput Blue-Eyes Alternative White Dragon i Blue-Eyes Spirit Dragon. Bez obzira na to, ovaj vam proizvod omogućuje da jedan od najboljih deckova danas napravite za vrlo malo novaca.
Nešto manje popularni Joeyevi Red-Eyesovi su isto jako zastupljeni u ovom proizvodu. Osim originalnog Red-Eyes B. Dragona, možete pronaći još i karte poput jednog od najkorisnijih Rank 7 čudovišta, Red-Eyes Flare Metal Dragona, ostale bitne karte za arhetip poput Archfiend Black Skull Dragon, odličnog Red-Eyes Fusiona te jednu od najtraženijih karata za deck – The Black Stone of Legend. Uz sve to, tu su i neke od karata koje je Joey koristio u svojim duelima poput Jinzo, Alligator's Sword, Rocket Warrior, Scapegoat pa čak i njegova famozna Trap karta Kunai with Chain!
I ono najzanimljivije ostavio sam za kraj. Yugijev deck napravljen kakav bi bio da nije u ranim epizodama izgubio Exodia karte. Uz svih pet dijelova Exodie koji se po prvi puta svi mogu pronaći pod common raritetom dolaze i nove Exodia karte – The Legendary Exodia Incarnate i Obliterate!!! Ove su karte jako korisne ako želite napraviti Exodia deck jer donosi konzistentnost i drugačiji stil igre kakvog Exodia deckovi još nisu imali. Uz Exodiu dolaze i, naravno, tri egipatska božanstva u igrivom izdanju i s originalnim artom!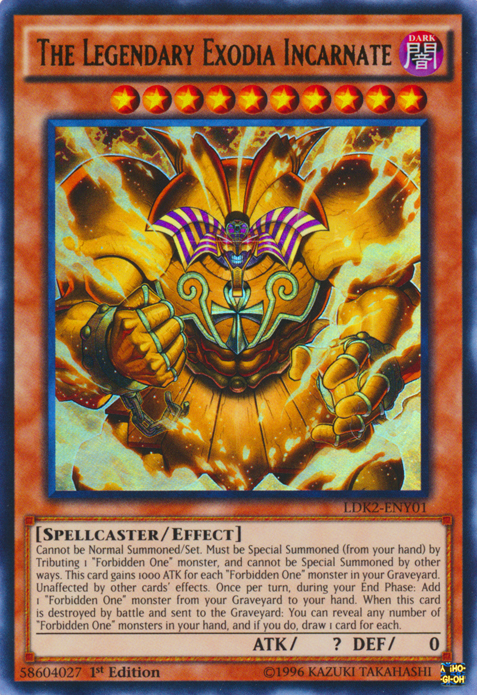 Jedna karta koja je mene u ovom setu jako obradovala jer je prvi puta ovdje ugledala svjetlo TCG-a jest Ties of the Brethren, karta koju je Yugi koristio u posljednjem duelu protiv Yamija. Ova će karta vrlo vjerojatno vidjeti igre u kompetitivnim deckovima, a jako velikog potencijala ima u Majespecter decku. Rock Stun je isto može koristiti poprilično efektivno. O ovoj karti ću još govoriti naknadno pa neću ovdje previše pričati o njoj.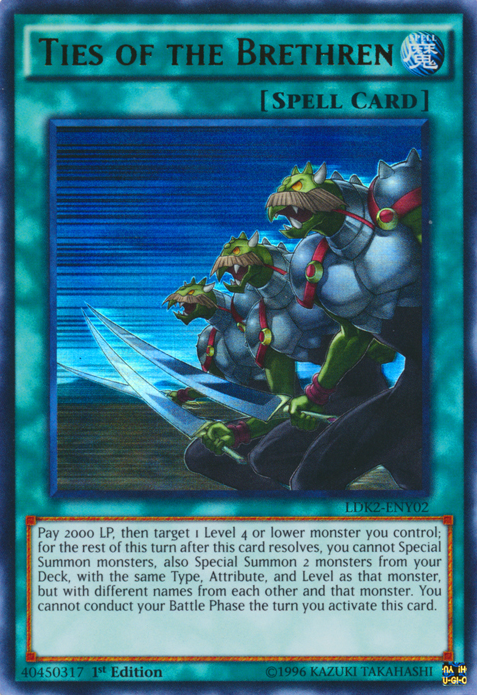 Kao što se ovdje mogu pronaći karte koje su koristili Kaiba i Joey, tako se mogu pronaći i neke klasične karte koje su Yugije pomagale u duelima, a samo neke od njih su Dark Magician, Buster Blader, Marshmallon, Mirror Force te Magical Hats. Uz sva tri decka dobiju se i tokeni likova čiji su deckovi, točnije dobiju se token Kaibe, Joeyja i Yugija. Tokeni fora izgledaju i ne mogu se dobiti nigdje drugdje pa su svakako potencijalna meta kolekcionarima.
Uz sve to, dobiju se još i tri promo karte korisne za Dark Magician i Dark Magician Girl arhetipe u secret rare raritetu, a te karte su Dark Burning Attack, Dark Burning Magic te Eternal Soul. Eternal Soul karta je koja će svakako zainteresirati bilo koga tko želi igrati Dark Magiciane pa svakako vrijedi uzeti u obzir ovaj proizvod pri pravljenju toga decka. Što se sve nalazi i u čijem decku možete provjeriti na kraju ovoga teksta. Ovaj proizvod smatram poprilično zanimljivim jer ima jako puno korisnih karata, a i budi nostalgiju u meni. Ovo je fenomenalan dodatak svim kolekcionarima, a i onima koji su željni pravljenja deckova jer se ovdje mogu pronaći karte za započeti raditi čak četiri zanimljiva decka (Exodia, Dark Magician, Blue-Eyes, Red-Eyes)! Što vi mislite o proizvodu? Mislite li da je dobro što je Konami ubacio i nove karte u njega ili su trebali ostaviti sve stare? Javite nam u komentarima! 🙂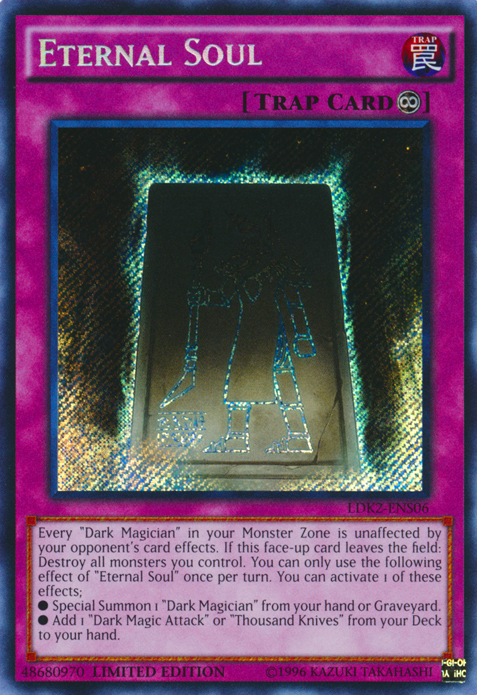 Yugi
LDK2-ENS01 Slifer the Sky Dragon (Ultra Rare)
LDK2-ENS02 Obelisk the Tormentor (Ultra Rare)
LDK2-ENS03 The Winged Dragon of Ra (Ultra Rare)
LDK2-ENY01 The Legendary Exodia Incarnate (Ultra Rare)
LDK2-ENY02 Ties of the Brethren (Ultra Rare)
LDK2-ENY03 Obliterate!!! (Ultra Rare)
LDK2-ENY04 Exodia the Forbidden One (Common)
LDK2-ENY05 Right Arm of the Forbidden One (Common)
LDK2-ENY06 Left Arm of the Forbidden One (Common)
LDK2-ENY07 Right Leg of the Forbidden One (Common)
LDK2-ENY08 Left Leg of the Forbidden One (Common)
LDK2-ENY09 Exodia Necross (Common)
LDK2-ENY10 Dark Magician (Common)
LDK2-ENY11 Dark Magician Girl (Common)
LDK2-ENY12 Buster Blader (Common)
LDK2-ENY13 Silent Magician LV8 (Common)
LDK2-ENY14 Silent Magician LV4 (Common)
LDK2-ENY15 The Tricky (Common)
LDK2-ENY16 Big Shield Gardna (Common)
LDK2-ENY17 Magician's Valkyria (Common)
LDK2-ENY18 Blast Magician (Common)
LDK2-ENY19 Blockman (Common)
LDK2-ENY20 Marshmallon (Common)
LDK2-ENY21 Sangan (Common)
LDK2-ENY22 Gold Sarcophagus (Common)
LDK2-ENY23 Swords of Revealing Light (Common)
LDK2-ENY24 Magical Dimension (Common)
LDK2-ENY25 Magicians Unite (Common)
LDK2-ENY26 Tricky Spell 4 (Common)
LDK2-ENY27 Thousand Knives (Common)
LDK2-ENY28 Dark Magic Attack (Common)
LDK2-ENY29 Contract with Exodia (Common)
LDK2-ENY30 Messenger of Peace (Common)
LDK2-ENY31 Dark Factory of Mass Production (Common)
LDK2-ENY32 Monster Reincarnation (Common)
LDK2-ENY33 Secret Village of the Spellcasters (Common)
LDK2-ENY34 Pot of Duality (Common)
LDK2-ENY35 Mirror Force (Common)
LDK2-ENY36 Magical Hats (Common)
LDK2-ENY37 Magic Cylinder (Common)
LDK2-ENY38 Magician's Circle (Common)
LDK2-ENY39 Backup Soldier (Common)
LDK2-ENY40 Gravity Bind (Common)
LDK2-ENT01 Token (Ultra Rare)
Kaiba
LDK2-ENK01 Blue-Eyes White Dragon (Common) – 3 kopije
LDK2-ENK02 Dragon Spirit of White (Common)
LDK2-ENK03 Kaibaman (Common)
LDK2-ENK04 The White Stone of Legend (Common)
LDK2-ENK05 The White Stone of Ancients (Common)
LDK2-ENK06 Maiden with Eyes of Blue (Ultra Rare)
LDK2-ENK07 Protector with Eyes of Blue (Common)
LDK2-ENK08 Master with Eyes of Blue (Common)
LDK2-ENK09 Battle Ox (Common)
LDK2-ENK10 La Jinn the Mystical Genie of the Lamp (Common)
LDK2-ENK11 Vorse Raider (Common)
LDK2-ENK12 Alexandrite Dragon (Common)
LDK2-ENK13 Blade Knight (Common)
LDK2-ENK14 Ancient Lamp (Common)
LDK2-ENK15 Tiger Dragon (Common)
LDK2-ENK16 Kidmodo Dragon (Common)
LDK2-ENK17 King of the Swamp (Common)
LDK2-ENK18 Rider of the Storm Winds (Common)
LDK2-ENK19 Burst Stream of Destruction (Common)
LDK2-ENK20 Beacon of White (Common)
LDK2-ENK21 Mausoleum of White (Common)
LDK2-ENK22 Polymerization (Common)
LDK2-ENK23 Enemy Controller (Common)
LDK2-ENK24 Shrink (Common)
LDK2-ENK25 Silent Doom (Common)
LDK2-ENK26 The Melody of Awakening Dragon (Ultra Rare)
LDK2-ENK27 Ancient Rules (Common)
LDK2-ENK28 Trade-In (Common)
LDK2-ENK29 Where Arf Thou? (Common)
LDK2-ENK30 Pot of Dichotomy (Common)
LDK2-ENK31 Fusion Substitute (Common)
LDK2-ENK32 Unexpected Dai (Common)
LDK2-ENK33 Negate Attack (Common)
LDK2-ENK34 Final Attack Orders (Common)
LDK2-ENK35 Shadow Spell (Common)
LDK2-ENK36 Cloning (Common)
LDK2-ENK37 Fusion Reserve (Common)
LDK2-ENK38 Jar of Avarice (Common)
LDK2-ENK39 Azure-Eyes Silver Dragon (Common)
LDK2-ENK40 Blue-Eyes Ultimate Dragon (Ultra Rare)
LDK2-ENK41 First of the Dragons (Common)
LDK2-ENT02 Token (Ultra Rare)
Joey
LDK2-ENJ01 Red-Eyes B. Dragon (Common)
LDK2-ENJ02 Red-Eyes Black Flare Dragon (Common)
LDK2-ENJ03 Red-Eyes Archfiend of Lightning (Common)
LDK2-ENJ04 Red-Eyes Retro Dragon (Common)
LDK2-ENJ05 The Black Stone of Legend (Ultra Rare)
LDK2-ENJ06 Black Metal Dragon (Common)
LDK2-ENJ07 Axe Raider (Common)
LDK2-ENJ08 Alligator's Sword (Common)
LDK2-ENJ09 Baby Dragon (Common)
LDK2-ENJ10 Jinzo (Common)
LDK2-ENJ11 Goblin Attack Force (Common)
LDK2-ENJ12 Gearfried the Iron Knight (Common)
LDK2-ENJ13 Rocket Warrior (Common)
LDK2-ENJ14 Blue Flame Swordsman (Common)
LDK2-ENJ15 Time Wizard (Common)
LDK2-ENJ16 Phoenix Gearfried (Common)
LDK2-ENJ17 Gemini Summoner (Common)
LDK2-ENJ18 Blazewing Butterfly (Common)
LDK2-ENJ19 Dark Valkyria (Common)
LDK2-ENJ20 Command Knight (Common)
LDK2-ENJ21 Valkyrian Knight (Common)
LDK2-ENJ22 Keeper of the Shrine (Common)
LDK2-ENJ23 Inferno Fire Blast (Common)
LDK2-ENJ24 Red-Eyes Fusion (Common)
LDK2-ENJ25 Cards of the Red Stone (Common)
LDK2-ENJ26 Polymerization (Common)
LDK2-ENJ27 Salamandra (Common)
LDK2-ENJ28 Scapegoat (Common)
LDK2-ENJ29 Foolish Burial (Common)
LDK2-ENJ30 Roulette Spider (Common)
LDK2-ENJ31 Supervise (Common)
LDK2-ENJ32 Mystical Space Typhoon (Common)
LDK2-ENJ33 Symbols of Duty (Common)
LDK2-ENJ34 Return of the Red-Eyes (Ultra Rare)
LDK2-ENJ35 Red-Eyes Spirit (Common)
LDK2-ENJ36 Kunai with Chain (Common)
LDK2-ENJ37 Call of the Haunted (Common)
LDK2-ENJ38 Torrential Tribute (Common)
LDK2-ENJ39 Burst Breath (Common)
LDK2-ENJ40 Curse of Anubis (Common)
LDK2-ENJ41 Red-Eyes Flare Metal Dragon (Ultra Rare)
LDK2-ENJ42 Archfiend Black Skull Dragon (Common)
LDK2-ENJ43 Alligator's Sword Dragon (Common)
LDK2-ENT03 Token (Ultra Rare)