Sup. People master je opet tu sa novim blogom. Gledajući po kartama našao sam prilično jaku, ali zaboravljenu kartu koja moze veoma dobro doći u Fire King Kozmo, ili bilo kom deck-u koji u sebi sadrzi Fire King Island. Ova karta nikad nije vidjela competitive play u TCG, no sada uz FK Island sve je moguće. Ta karta je- Earthbound Immortal Ccarayhua.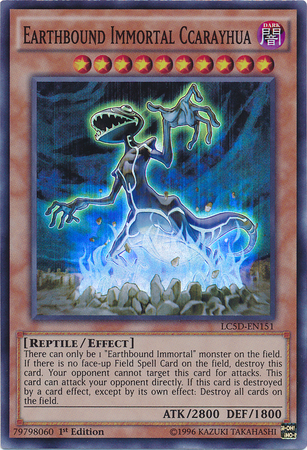 There can only be 1 "Earthbound Immortal" monster on the field. If there is no face-up Field Spell Card on the field, destroy this card. Your opponent cannot target this card for attacks. This card can attack your opponent directly. If this card is destroyed by a card effect, except by its own effect: Destroy all cards on the field.
Početni effecti nas toliko i nezanimaju, no da opp nemože attk ovu kartu moze biti prilično handy ako je već želimo i možemo summonat., kao i to da moze napadati direct, sa Mound of Bound Creator pravi prilično cool potez no to nije ono na sta želimo da se oslanjamo nego na njegov zadnji eff. Kada je uništen od effect clear field i daje veoma veliku šansu da otk opponnet. Postavlja se pitanje, kako uništiti ovu kartu a da mi sami negubimo na kartama? Odgovor je jednostavan, samo koristimo Fire King Island.
If this face-up card in the Field Zone is sent to the Graveyard or banished: Destroy all monsters you control. You can only use 1 of the following effects of "Fire King Island" per turn, and only once that turn.
● During your Main Phase: You can destroy 1 monster in your hand or you control, and if you do, add 1 "Fire King" monster from your Deck to your hand.
● If you control no monsters: You can Special Summon 1 FIRE Winged Beast-Type monster from your hand.
Karta koja je nazvana i search-a FK mnogo više se koristi u Kozmo-u nego u samom Fire King deck-u. Iako Kozmo mora koristiti FK da negubi na kartama, to je mali price za ono šta radi ova karta u Kozmo-u(why not Kozmo Island?). No da se osvrenemo kako ova karta može biti odigrana sa EI, pa i tu je odgovor veoma jednostavan. Uništimo svog EarthBound Immortal i jednostavno search-amo, plus očistimo field za mogući otk. Pošto se FK Island svakako koristi u Kozmo-u, dodavanje jedne kopije od Ccarayhua može veoma pomoći Kozmo-u da očisti polje puno trapova(Qli demise is shit) i time olakša sebi put za otk. EI CC cloga? Ne, jer je i on dark pa se moze koristiti kao dodatni target i za allure. Ova karta ima svojih vrlina kao i mana, no sve u svemu moze biti korisna u meta deck kao što je Kozmo, ili pak možete je iskoristiti u rogue deck-ovi kao Yubel ili pak sam Fire King.
Do sledećeg bloga pozz.